100th Reunion

Troop 3 Holds 100th Anniversary Celebration
A very special evening that was 100 years in the making took place on Saturday evening August 26, 2017 at the Nemesis Shrine Center in Parkersburg, West Virginia, following a picnic lunch earlier in the afternoon at the Sea Scout Base in Belpre, Ohio, as over 200 Scouts, alumni, parents and guests of Boy Scout Troop 3, sponsored by the First Presbyterian Church, celebrated a historic milestone.
| | |
| --- | --- |
| | |
| | (L-R) Ron Taylor, and Nathaniel Moyers |

While the picnic lunch at the Sea Scout Base was scheduled from 11:30 AM to 2:00 PM, alums started arriving an hour before the event to take advantage of the "Chamber of Commerce" weather on a bright, sunny day when the temperature peaked at 75 degrees.
| | | | | |
| --- | --- | --- | --- | --- |
| | | | | |
| | (L-R) Kim Archer, and Mike Humphrey. | | (L-R) Dave Gibson, John Simpson, Phil Hawkins. | |

Lunch started promptly at 11:30 AM and everyone enjoyed a hearty spread of tasty food.

Since many had not visited the Sea Scout Base in over 50 years more than one alum seemed startled that the property and stone lodge appeared to be much smaller than they had remembered as young members of the troop when they used to hike from the church in Parkersburg for an overnight campout and work party.
Others remarked they were astounded by cleanliness of the stone lodge and the pristine condition of the surrounding grounds on both sides Beach Drive. Before the afternoon was over many took advantage of ideal conditions to take short trips in a troop canoe or kayak on the beautiful Ohio River.
As background, Troop 3, led by Scoutmaster Tom Dukas, is the oldest continually operating Boy Scout troop in Parkersburg, and the second oldest Boy Scout troop in West Virginia. In the troop's 100-year history, 132 young men, 12% of its members, have earned the Eagle Scout Award, the highest rank in Scouting. Troop 3 also enjoys the distinction of having produced the first Eagle Scout in West Virginia in 1919, Stanley Rawson.
Former Scouts came from 20 states and the District of Columbia to reminisce and strengthen the bonds formed through various Scouting activities and weeks spent at summer camp. The alum traveling the furthest to attend the reunion was Libe Wasburn who journeyed 2,444 miles from Santa Barbra, California.
Before the evening program several alums were asked to reveal their motivation to return for the troop's 100th Anniversary Reunion. Tom Shipley, from Slatyfork, West Virginia said, "The friendships I developed in my Patrol turned out to be best the buddies I've ever had in life. I simply couldn't wait see them again."
Phil Hawkins, from Jackson, Ohio chimed in, "The guys in my Patrol turned out to be the most loyal people I've ever come across in life. They're like a band of brothers."
Loring Ross, from Myrtle Beach, South Carolina said, "Troop 3 was the first taste I had as to what it takes to assume responsibility and provide leadership. The guys in my Patrol took care of, and looked after, each other."
The evening program was a fast paced affair filled with bugle calls, nostalgia, testimonials about the impact Scouting had on the lives of several Scouts over the past 70 years, plus a special indoor campfire ceremony filled with skits, laughter, and singing. Attendees started lining up over two hours before the function began and many stayed until the lights were turned out.
The program opened with an impressive flag ceremony and Pledge of Allegiance by the Cub Scouts of Pack 3 and Cubmaster Megan Modesitt, who was voted "2016 Cubmaster of the Year" in the Blennerhassett District of the local Buckskin Boy Scout Council.
Pack 3 Cub Scout Brock Modesitt proudly presents the American flag to open the evening's program as Wood County Commissioner Bob Tebay respectfully observes the proceedings. With over 200 Scouts, alums, and their families in attendance this event was one of the largest Boy Scout troop reunions ever held in the State of West Virginia. Cub Pack 3 and Troop 3 are both sponsored by the First Presbyterian Church in Parkersburg.




(L-R) Allen Bonner, Cubmaster Megan Modesitt, Brock Modesitt, Carson McKinney, Ryordan McKinney, Mack Modesitt, Brayden Thompson,

and Phil Bonner.

Following the Boy Scout Oath and Law, Mayor Tom Joyce stepped to the podium and read a Proclamation declaring Saturday, August 26, 2017, as "Troop 3 Boy Scout Day" in Parkersburg, in honor of the troop's many contributions to the community over the years.
While a dinner of rib eye steaks and chicken breasts was being served, four distinguished alums took to the podium to reflect about "the impact Scouting had made on their work and adult lives".
Tom Motoya, from Mora, New Mexico, a member in the late 1940?s said, "the Principles and Values Of Scouting made a huge impact on me at a very impressionable age in my life".
Steve Murrill, from Wilmette, Illinois, a member in the early 1960's said, "I learned very early that Scouting has a purpose, it's not just about outdoors adventures, but experiential, on the job training of life skills".
Representing the 1970's was Jim McHugh, from Broken Arrow, Oklahoma. McHugh said, "I was taught to respect my Country, my God, my parents, and other people. I also learned it was important to always be prepared for any situation that may arise".
Nick Bogdan, from South Pointe, Ohio, a member from 2002-2010 said, "Learning to live by the Scout Oath and Law played a key role in preparing me to be successful in my young life".
Then it was time for the troop's newest member, Ivan Cornelison to welcome the "old timers" to the reunion.
This was followed by a well thought out reply

by the troop's oldest living member in attendance,

Bob Goldenberg, a local Parkersburg attorney,

who is 93 years young.

Next came one of the highlights of the night that simply amazed and delighted the crowd. It was a real-life campfire program complete with much singing, skits, laughter, and rousing Boy Scout yells that took place indoors around an authentic life-like replica of a typical Camp Smitty campfire.
After Scoutmaster Tom Dukas encountered a problem lighting the campfire, Troop Committee Chairman Bill Peters came to the rescue with an "imaginary" can of "Eagle Water" as the crowd, led by campfire director Caleb McHenry, sang, "Here We Sit Like Birds in the Wilderness Waiting for the Fire to Start".

After the fire roared to life Larry Maxwell took center stage and energetically led the attendees in;
"W e A r e T h e S c o u t s o f R e g i o n 4 "!

Larry, who has never been known to lack enthusiasm, was voted Parkersburg Elks Club Teacher of the Year in 2011. He also served as cpirit Leader for more years than many can remember at Parkersburg South High School. As Spirit Leader it was Larry's responsibility to lead the players, cheerleaders etc., before each football or basketball game on to the field, or floor, while running at the head of the procession carrying the PSHS school flag.
Before each event Larry instructed an associate to run behind him and grab the flag from his hands, if he went down, so as to keep it from hitting the ground.
Then the "Camp Smitty Players" took the stage with a hilarious skit. This rag-tag group of alums composed of Bill Peters and brothers Tim, Steve, and Kim Archer brought down the house with their dress and antics.
Next was a Boy Scout yell, followed more singing, another skit, a yell and a final song before the campfire was extinguished for the evening.
A valued friend of the troop and former Buckskin Council Scout Executive Dale Musgrave then gave a short talk about the culture, values and traditions of Scouting and Troop 3.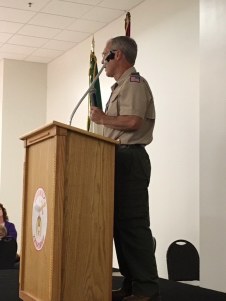 Shortly thereafter, Tom Dukas, Scoutmaster of Troop 3 for the past 31 years,stepped to the podium to thank everyone for helping to make the troop's 100th reunion a tremendous success.
The evening's program closed with singing of the Scout Vesper Song, followed by a moment of silence for deceased members and the playing of Taps by bugler Marc Simpson.
Before and after the evening's program Troop 3 alumni and their guests enjoyed displays of old photographs, and various Scouting memorabilia. The attendees were also provided the opportunity to purchase a book that was recently published just in time for the troop's reunion, "
Priceless Memories of Troop 3
" by alum Ron Taylor. Taylor's book covers the 100-year history of Troop 3 and is available on
Amazon.com
.
During the week following the reunion many favorable comments were received about the good food, the fast-paced program, and the overall demeanor of the assembled alums who came together to attend one of the biggest Boy Scout troop reunions ever held in the State of West Virginia.
Several wives mentioned that, "they had never been in a room with so many caring, nice, and well mannered men".
Jim Graham, from Louisville, Kentucky summed up the evening when he wrote, "The food was good, and I mean good, and we concluded about 8:00 PM. I have been to many events where I paid considerably more, that lasted until late in the evening, and the food was questionable. My Father, brother, and I all agreed that we really enjoyed the reunion".
Members of the Fox Patrol reunite after fifty years.

(First row L-R:) Tom Shipley, Larry Maxwell.

(Back row L-R:) Loring Ross, John "Jay" Simpson, Steve Murrill,

Steve Halfhill, Chip Woodall, Marc Simpson and Phil Hawkins.

Outside the two reunion events many spent as much time as they could with their old Scout buddies catching up and recalling warm memories embellished by the passage of time. Several, who at first seemed tentative about coming to the reunion, later said, " I'm so glad I didn't miss this once-in-a lifetime opportunity to reconnect, and rejoice with some of the best and most loyal friends I ever had".
Over fifty years ago these three brothers were Boy Scouts in Troop 3.
(L-R:) Steve Archer, from Raleigh, NC,

Alan (Tim) Archer, From Vienna, WV,

and Kim Archer, from Belmont, MA.

If anyone in the Parkersburg area reading this summary of Troop 3's 100th Anniversary Reunion has an 11-15 year old son interested in learning some important life skills offered by the Boy Scouts of America, please give Troop 3 a close look. For more information please contact Scoutmaster Tom Dukas @ (304) 481-9010, or email the troop at
scouting@troop3wv.org
.