Priceless Memories

________________
"Priceless Memories Of Troop 3" by Ron Taylor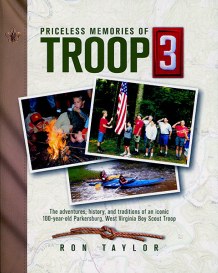 Dear Fellow Alums,
This is to announce that a book tracing Troop 3's adventures, history and traditions over the past 100 years, that I've been working on for some time, has just been released and is available for shipment on
Amazon.com
beginning Monday, April 17th, 2017.
Those who have an interest in the very unique history of Troop 3, that have previewed this 246 page book with 112 pictures, have all enjoyed it.
If you should be so moved as to order a copy from
Amazon.com
, don't forget to review it online at
Amazon.com
. The more positive reviews we get, the better the sales will be!
Oh, I almost forgot to mention that, all the proceeds from all the book sales are going to Troop 3 Alumni Inc., to help support its Scouting programs.
Thanks in advance for your support of Troop 3.
Yours in Scouting,
Ron Taylor
Note: Use of images and documents used herein are with the express permission of the author, Ron Taylor.